Welcome to Mahitahi Lodge - luxury West Coast Bed and Breakfast
We welcome you to our beautiful lodge set in the stunning scenery of South Westland. Situated close to the Glaciers and surrounded by beaches, rivers, and native forest, we offer high quality bed and breakfast accommodation.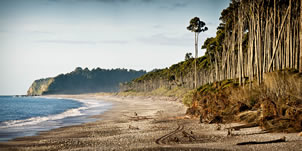 While staying at Mahitahi Lodge, you can enjoy an untouched and wild part of New Zealand usually only locals get to explore. Take a walk down the crystal clear Mahitahi River and along the Bruce Bay beach, enjoy the views of Mount Cook and the Southern Alps, and come home to the lodge to unwind in the spa pool. If you choose to have dinner with us, we like to treat you to the best our local cuisine has to offer.
Our lodge is a convenient distance from the famous Glaciers, with Fox Glacier being a 30 minute drive away and Franz Josef 50 minutes. If you are coming from south or planning to continue your travels south, Wanaka is a leisurely 3 hours' drive away and Queenstown 4 hours

"World class fishing and hunting, bush walking, photography, the beaches and history - it's all here and it's so peaceful as well"